THE GUARDIAN
David Cameron is set to spend his Easter break on the island of Lanzarote, despite having urged British families to holiday in the north of England to boost tourism in the region hit by the winter floods.
In the wake of the flooding that caused chaos across much of the north, including the Lake District national park, the prime minister launched a package of measures, including a £1m PR campaign, to encourage British families to visit the region over the Easter break.
At the time, Cameron said: "From York Minster to Honister mine, Carlisle castle to the Leeds Armouries, the north has some of the most iconic tourist attractions the UK has to offer. So it is absolutely right that we do everything we can to make sure these businesses feel supported and ready to receive visitors."
The taxpayer-backed package of assistance launched in the wake of the floods included help with rebuilding bridges and shoring up footpaths, and a poster campaign encouraging families to visit the beauty spots of Yorkshire, Northumberland, Cumbria and Lancashire.
But with tough campaigning ahead for local elections in May and the June referendum on Britain's future in the European Union, the prime minister is flying off to soak up some spring sunshine in the Canaries.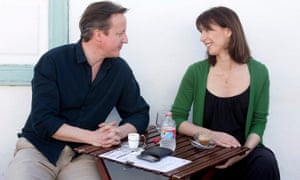 The Camerons are regular visitors to Cornwall, and the prime minister mentioned his fondness for the West Country at Wednesday's prime minister's questions. But they holidayed in Lanzarote in 2014, when he was stung by a jellyfish while swimming in the sea.
The Liberal Democrat leader, Tim Farron, whose Cumbrian constituency was hit hard by the floods, said: "The prime minister previously said people should visit the north, but like virtually everything that comes out of his mouth what he actually meant was everyone else and not himself.
"While the prime minister ignores his own comments, what I am saying is that the north is open for business and I urge people to come and visit and see some of the beautiful scenery in the country, and just remember, prime minister, there are no jellyfish in the Lake District."
Lanzarote, which lies off the coast of north-west Africa, is known for its volcanic landscape and year-round sunshine.
A Downing Street spokesman said: "We never comment on the prime minister's holiday arrangements." But a government source said: "People can take a variety of holidays. The PM regularly goes on holiday in England, and he also goes abroad. The two are not incompatible."